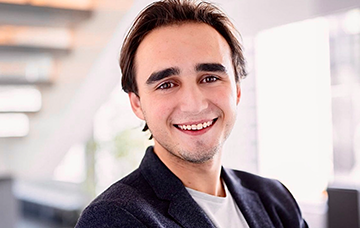 Illia Ovcharenko
Born in Chernigov in a family of teachers, Illia began to play the piano at the age of 8 in the class of Elena Sachenko and from the age of twelve he was invited to study in the Ukraine's most famous music school in Kyiv. Illia graduated from the Mykola Lysenko National Academy of Music in 2018 and is currently pursuing her higher education in Israel at the Buchmann-Mehta Institute of Higher Education in Tel Aviv, under the tutelage of Professor Arie Vardi. In 2019, Illia received a scholarship to the Aspen Music Festival (USA) which allowed her to study under the direction of Professor Yoheved Veda Kaplinsky at the Julliard School. At the Aspen Music Festival, he replaced Daniil Trifonov at short notice and was a huge success with the public.
Illia has performed with many orchestras such as the Jerusalem Symphony Orchestra, the National Philharmonic Orchestra of Ukraine, the Pomeranian Philharmonic Orchestra, the National Radio of Ukraine, the String Orchestra of the Versailles Conservatory, the 'Orchestre Symphonique du CRR de Cergy-Pontoise in collaboration with conductors Arie Vardi, Dmitry Sitkovetsky (USA), Ian Hobson (USA), Mykola Diadyura (Ukraine), Kai Bumann (Poland), Mykola Sukach (Ukraine), Benoit Girault ( France), Volodymyr Sirenko (Ukraine), Volodymyr Shejko (Ukraine), Nicolo Giuliani (Italy), Vitaly Protasov (Ukraine). Since 2012, Illia has won more than 20 piano competitions in Spain, Portugal, Ukraine, United States, Russia, Italy, Poland, Singapore, Israel, Czech Republic and France, notably during the International Piano Campus Competition where he is very Quickly noticed by Pascal Escande who invited him to the Auvers-sur-Oise Festival for several recitals as well as for the 2022 opening of the 20th anniversary of the Piano Campus Festival.
Regularly participating in various music festivals around the world in France, Ukraine, Israel, United States, Germany, Poland, Spain, Switzerland and Italy, Illia is invited as a soloist at the Arthur Rubinstein Piano Festival, Aspen Music Festival , Auvers-sur-Oise Festival, Piano Campus Festival, Marktoberdorfer Music Festival, Feruccio Busoni Festival and at the Bern Festival.
Illia Ovcharenko has recently won several prizes at major international competitions on the circuit: Viseu (Portugal – April 2021), Busoni in Bolzano (Italy – September 2021), Bern (Switzerland – September 2021) and the Hilton Head International Piano Competition USA ( 2022). Finally, following his 3 recitals given last October in Val d'Oise and Ile-de-France, the Auvers-sur-Oise Festival has decided to support him in a spirit of residence during Opus 42 in 2023 and to produce his first record for him under the mission DiscAuverS label. Possessing an incredible talent, Illia is both a poet and a virtuoso. At 20, her repertoire is considerable in recital, concerto and chamber music. Currently completing a double Master's degree at Tel Aviv University, Illia Ovcharenko is a boy who exuded the joy of living. A joy that is giving way to the sadness and drama that his whole family is living in Ukraine.