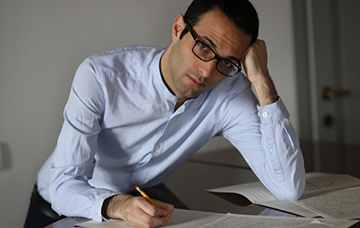 Benjamin Attahir, guest composer of Opus 42
Born in Toulouse in 1989, Benjamin Attahir began by learning the violin then, very early on, became passionate about composition. He counts among his masters Édith Canat de Chizy, Marc-André Dalbavie, Gérard Pesson, as well as Pierre Boulez.
Winner of numerous competitions and distinctions such as the Ernst von Siemens Music Prize, the USA IHC in Bloomington, the International Rostrum of Composers of UNESCO, several prizes from SACEM and SACD as well as from the Academy of Fine Arts , he was nominated in 2019 and 2021 for the Victoires de la Musique Classique.
His works are played by various ensembles and orchestras (Staatskapelle Berlin, Orchester National de France, Orchester Philharmonique de Radio France, Orchester du Capitole de Toulouse, Orchester Philharmonique d'Helsinki, Netherlands Philharmonic, Orchester de Chambre de Lausanne, Ensemble Intercontemporain, Tokyo Sinfonietta , The Elements, Musicatreize, the Maîtrise de Radio France, the Trio Zadig, the Arod and Van Kuijk Quartets…) He was composer in residence at the National Orchestra of Lille, the Gulbenkian in Lisbon as well as many Festivals ( Aix en Provence, Gstaad, Les Arcs, Messiaen, Lucerne Festival…)
Resident at the Villa Médicis (16/17), he encounters the work of the author and playwright Lancelot Hamelin with whom he has since weaved an uninterrupted dialogue.
Author of two operas, the premieres of which he directed in 2012 and 2015, the scenic domain is the backbone of his musical writing, which, like his origins, draws his inspiration halfway between East and West. In 2019, he conducts the Orchester de La Monnaie de Bruxelles in his third lyrical work, Le Silence des Ombres on a libretto by M. Maeterlinck.
He regularly collaborates with artists such as Daniel Barenboim, Renaud Capuçon, Bertrand Chamayou, Emmanuel Pahud, Jean-Guihen Queyras, Marc Coppey, Henri Demarquette, Gérard Caussé, Hae-Sun Kang, Geneviève Laurenceau, Raquel Camarinha, Tugan Sokhiev, Andres Orozco -Estrada, Pascal Rophé… as well as with several troupes: the Comédie Française, the Liyuan Theater of Quanzhou (China).
His works are published by Durand Salabert Eschig editions.