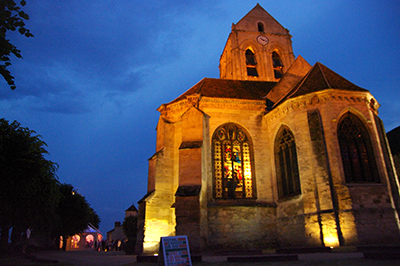 History of the Auvers-sur-Oise Festival
Identity of the Auvers-sur-Oise Festival
The Auvers-sur-Oise Festival is one of the most prestigious music festivals in Europe. It incorporates in music the spirit of the Impressionist paintings: variety, vitality, curiosity, freedom. Baroque Auvers, classical Auvers, romantic Auvers, lyrical or contemporary Auvers… many different feelings appear in this village of artists, Auvers-sur-Oise. In recent years, the Festival has built a solid reputation among the great musicians from all around the world who considered it an inevitable step on their course.
And just to point out a few of them, like Georges Cziffra, Sviatoslav Richter, Nikita Magaloff, Gundula Janowitz, Christa Ludwig, Radu Lupu, Maurice André, Jean Pierre Rampal, Barbara Hendricks, Teresa Berganza, Mstislav Rostropovich, Dame Gwyneth Jones, Helene Grimaud François René Duchâble, Sviatoslav Richter, Ivo Pogorelich, Yuri Bashmet, Maria Joao Pires, Maxim Vengerov, Natalie Dessay, Evgeny Kissin, Cecilia Bartoli, Fazil Say, Nelson Freire, Renée Fleming, Joyce Di Donato, they all strongly influenced the history of Auvers-sur-Oise Festival by their talent and charisma.
However, the Festival looks forward to the future and it is confirmed as a laboratory of discovery, research and creation. From Trio Wanderer to Claire Marie Le Guay, Delphine Haidian, Thierry Escaich, Denis Matsuev, Inon Barnatan Henri Demarquette, Hisako Kawamura, Tristan Pfaff, Jean-Frédéric Neuburger, The Masters of Paris, Lilit Grigoryan, Sanja Bizjak, Miroslav Kultushev, Luka Okros, and more recently Anastasia Kobekina, the Festival completes its mission to provide a stage for young artists to develop their recording career.
In addition, the Festival has reached one of its objectives in 2006: the construction of a post-classical aesthetic organ of 30 pipes at the church of Notre Dame in Auvers-sur-Oise. This organ produces other major projects for young people, such as the workshop "The Organ For Children", the creation of editions of works ordered from contemporary composers and the project of establishing a choir school.