The association's objective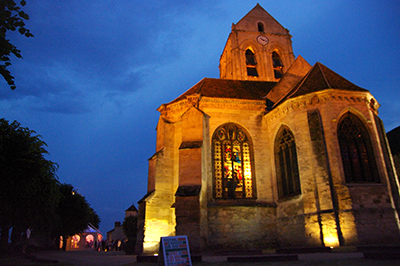 The Auvers-sur-Oise Festival is placed under the 1st July 1901 law.
The association's goal is to manage the Auvers-sur-Oise Festival, to promote arts by creating artistic manifestations, to promote and highlight the Notre-Dame Church of Auvers-sur-Oise and its heritage and to contribute to the development of cultural and artistic projects around the Bernard Hurvy organ.
In fact, the Festival has reached in 2006 its first objective: the construction of a post-classic aesthetic organ of 30 pipes in the Notre-Dame Church of Auvers-sur-Oise. This organ leads then to other ambitious projects for young people like the workshop "The Organ For Children", the creation of artwork edition ordered to contemporary composers and the project to fund a manecantry. 
Concerning the promotion of the Notre-Dame Church of Auvers-sur-Oise, here is the list of purchases realised since 1985 by the Festival:
Wooden choir organ bought for the cult (1985): €35,000
Carpentry organ podium (1985): €2,500
Restoration podium church half-moon and stairs (1985 to 1987): €5,700
Chords and settings (1985 to 2005): €8,000
Harmonium Mustel (restauration 1990): €1,700
Harmonium Chords (1990/1991/1992/1998/2000/2005) : €1,200
Podium altar renovation with the city of Auvers-sur-Oise (Menuiserie Martinez 1992) : €3,100
Lock and vandalised games Harmonium Mustel (2005): €380
Restoration of the left side floor and beginning of the right and left nef (1982): €6,000
Strawed chairs and benches of the Mery-sur-Oise Church bought to the Father Tyl for the Auvers church (1992): €1,000
Diverse works, sacristy – electic meter Bernard Bergeron (1990 to 2005): €1,000
Renovation of the lights of the Nef and sides and personal pillars (2005 and 2012): €1,400
Donation for cost sharing – Parish/Diocese (1985 to 1995): €6,000
Donation for cost sharing – Parish/Diocese (1996 to 2005): €30,000
Donation for cost sharing – Parish/Diocese (2006 to 2017): €58,000
Part of the Festival for the organ's construction (2005): €40,000
Highlighting of the Organ (2006): €19,500
Fees generated by the organ's inauguration – Security society – Inauguative concert (2006): €33,000
Finishing touches of the podium altar rectangular angles (Menuiserie Picard/Martinez 2009): €2,700
Participation to the carpet recovering the podium altar (2013): €1,000
Renovation local remise presbytery/technical – roofing (2013): €20,000
Renovation local remise presbytery/technical – electricity, painting, armoured door (2014): €5,800
Change of the church's furniture – 400 chairs – (2017): €29,000
Participation to the roofing works of the Notre-Dame Church of Auvers-sur-Oise: €18,000
Repairing of the flooring on the Pulpilt of Truth side and Pillar side (Menuiserie Picard 2018): €793
TOTAL : €330,773