PHILIA TRIO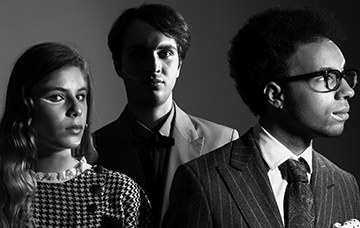 YOUNG TALENTS IN RESIDENCE – LE PHILIA TRIO
These three young musicians sharing a musical sensibility and a desire to explore new sounds together. From the Conservatoire National Supérieur de Paris, violinist François Pineau-Benois, accordionist Théo Ould and cellist Lisa Strauss were able in this place of excellence to foment the contours of this unprecedented artistic adventure. Having been able to keep their personalities while creating a common aesthetic, the Philia have been able to bring a certain singularity to the world of classical music. Defenders of the music of the creators of their time, the trio has been collaborating for several years with the composer Régis Campo. Supported by the Auvers-sur-Oise Festival since 2019, they are "Young ensemble in residence 2022". DiscAuverS, the Festival's "discovery mission" label, is producing their first album "Madness" which will be released next April with a launch concert on April 21, 2022 at the Salle Cortot. A bold, creative, original album bringing a certain uniqueness to the world of classical music. Truly, the Philia have the Follia at their fingertips!
NEW EUROPE CHAMBER ORCHESTRA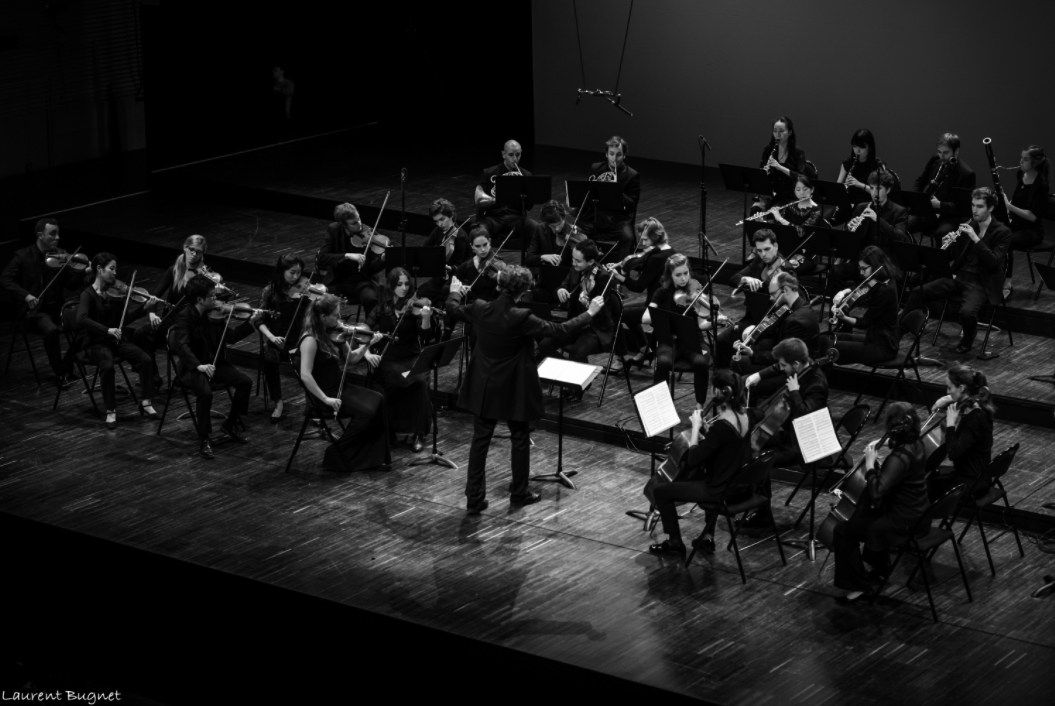 Created in 2003 by Nicolas Krauze, the Orchester de Chambre Nouvelle Europe [OCNE] brings together young European soloists and chamber musicians currently residing in France and sharing an exceptional musical approach and technical requirement.
OCNE has performed more than 400 times in some of the most prestigious festivals and some of the biggest French stages. Abroad, he has performed in the past five years 35 concerts in China, two tours in Brazil, a tour in South Korea and concerts in Germany, Italy, Switzerland and Belgium. International soloists join it regularly and some of the most eminent representatives of the musical world bring their artistic and human support. From 15 to 40 musicians depending on the program, the New Europe Chamber Orchestra plays exclusively on modern instruments and with a contemporary approach that is always considered according to the repertoires. Beyond that, the New Europe Chamber Orchestra aims to give a new breath of fresh air to classical music, in a young, very dynamic and charismatic approach. With more than 5 million views on its Youtube channel, the OCNE ranks as the independent French orchestra by far the most seen in the world on the internet. For the upcoming 2021/2022 season, around thirty concerts in France and three international tours in China, South Korea and Latin America are planned. Having collaborated for several years in a row with the Festival d'Auvers-sur-Oise, notably in the "Nuit des concertos" with the young cellist Anastasia Kobekina, it was only natural that he become Orchestra in residence during Opus 41 with a perspective of other ongoing projects for the years to come, both in terms of dissemination and training and creation.
NICOLAS KRAUZE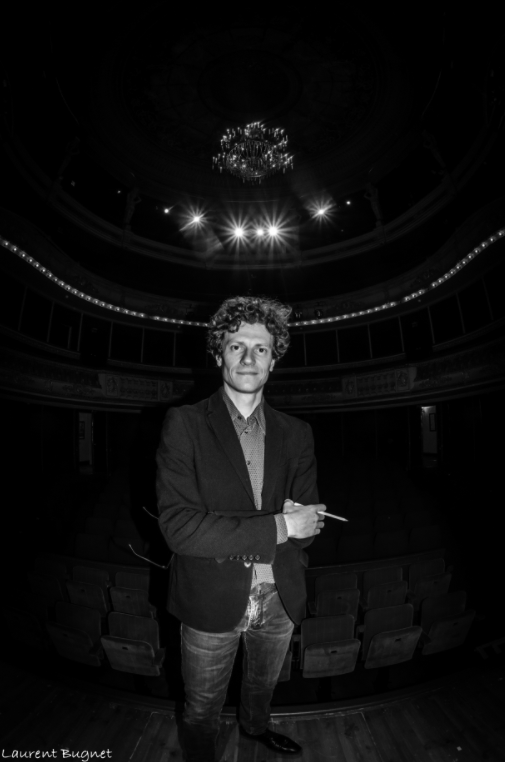 Nicolas Krauze is first guest conductor of the National Philharmonic of Ukraine in Kiev and is also musical director of the New Europe Chamber Orchestra. A graduate of the Gnessine Institute and the Tchaikovsky Conservatory in Moscow, where he graduated with five first prizes, Nicolas Krauze studied with Nicolas Brochot, Zsolt Nagy and Christoph Eschenbach. In France he has recently been invited to conduct the Orchester National d'Île-de-France, the Orchester Philharmonique de Monte-Carlo, the Orchester National de Montpellier Languedoc-Roussillon, the Orchester National de Lorraine, the National Orchestra of Pays de la Loire, the Avignon-Provence Orchestra, the Picardy Orchestra, the Normandy Orchestra, the Lamoureux Orchestra and the Limoges Symphony Orchestra. Abroad, he knows a career in full rise, and has performed and will perform soon with some of the main national symphony orchestras in Italy (Orchestra of the Arena of Verona, National Orchestra of Palermo, Symphony Orchestras of Lecce and Bari ), Poland (Bialystok, Lublin, Szczecin, Kielce, Wroclaw, Lomza Symphony Orchestras), Hungary (Györ Symphony Orchestra, Budapest Philharmonic), Czech Republic (Olomouc Symphony Orchestra), Romania (Buruset Symphony Orchestra, Orchestra Sibiu Symphony), Austria (Wiener Concert-Verein), Greece (Athens National Orchestra), Ecuador (Guayaquil, Cuenca and Loja Symphony Orchestras) in Kazakhstan (Almaty Symphony Orchestra and Almaty State Philharmonic) as well as in Ukraine (National Philharmonies of Kiev and Lviv). He has recently conducted soloists such as Alexandre Kantorow, Henri Demarquette, Nemanja Radulovic, Sergeï Nakariakov, Lise de la Salle, Vadym Kholodenko, Alena Baeva, Gérard Caussé, Remi Geniet, Alexandra Soumm, Edgar Moreau, François-René Duchâble, Svetlin Roussev , Tatjana Vassiljeva, Plamena Mangova, Aylen Pritchin, Rémi Geniet, David Grimal, Nicolas Dautricourt, Jean-François Zygel, François-Joël Thiollier, Sandor Javorkaï, Maja Bogdanovic, Romain Leleu, Marc Laforet, François Dumont, Yan Levionnois, Krzysztof Jakowicz, Julian Trevelyan or even Denis Kozhukhin. In the lyrical field, he was invited to conduct several productions on tour totaling a hundred performances in Europe (Faust, Aida, L'elixir d'amour, Don Pasquale, La fille du regiment, Les Noces de Figaro, Cavalleria Rusticana, Three Waltzes, The Merry Widow, Parisian life…).
For the 2021/2022 season, he will conduct around fifty concerts at the head of symphonic and lyrical productions in France, Poland, China, South Korea, Russia, Kazakhstan, Brazil, Argentina,Uruguay and Ukraine.
"Nicolas Krauze conducts with remarkable musical insight, exceptional technical qualities and an excellent relationship with the musicians. His charisma helps him project his musical ideas directly to the public". Christoph Eschenbach, conductor